🐱‍🏍⚡🌍Injustice 2 Mobile: Batman Ninja Promoted to 5 Stars🦇🗡💣🐱‍👓🐱‍👤🐱‍💻⭐⭐⭐⭐⭐ / Batman Ninja Promocionado a 5 Estrellas 🦇🗡💣🐱‍👓🐱‍👤🐱‍💻⭐⭐⭐⭐⭐
🔵English🟡🔴Español⚫
Hi Hivers❗🐝 welcome to a new post, in which we are going to start this week with the best energy and the best motivation in injustice 2, and it is the one that today batman ninja returns to the blog once more, this time to finally reach the 5-star category and reach a much higher power level and maximize its strength and in this post we will see all the improvements that I have made to the character to make it more lethal in battle, having said that, join me, and let the post begin ❗🐻🚀🎮
❗Hola Hivers❗🐝 bienvenidos a un nuevo post, en el cual vamos a comenzar esta semana con la mejor energía y la mejor motivación en injustice 2, y es el que día de hoy batman ninja regresa al blog una vez más, en esta ocasión para finalmente alcanzar la categoría de 5 estrellas y alcanzar un nivel de poder mucho mayor y maximizar su fuerza y en este post veremos todas las mejoras que he realizado al personaje para que sea más letal en batalla, dicho esto acompáñenme ❗y que comience el post ❗🐻🚀🎮




Batman ninja is one of the most emblematic characters of this rooster of animated characters, in addition to having very good skills that help us to make very effective blows in battle, he is a character that also serves excellently as a support for other characters in the game. rooster ninja like Catwoman and robin ninja, in addition to the joker and Harley quinn, but batman ninja is undoubtedly one of the characters that represent this rooster due to the possibilities offered by this character and the tactics that can be used to obtain victory.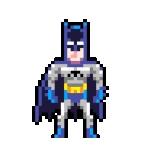 Batman ninja es uno de los personajes más emblemáticos de este rooster de personajes animados, además de poseer habilidades muy buenas y que nos sirven para poder efectuar golpes muy efectivos en batalla, es un personaje que también sirve de forma excelente como soporte de otros personajes del rooster ninja como Catwoman y robin ninja, además del guasón y Harley quinn, pero batman ninja sin duda alguna es uno de los personajes que representan a este rooster por la posibilidades que ofrece este personaje y las tácticas que pueden utilizarse para obtener la victoria.



This time we are going to maximize the passive skills of batman ninja starting with Aikido in which we raise it to level 5 in which we will have critical attacks automatically for a period of 10 seconds when receiving critical attacks, in addition we can identify it by an aura that It will surround batman ninja as well as we can automatically perform armor piercing attacks for 10 seconds anyway and an aura will be activated in the character while this effect is available, and this leaves us at level 6 of the skill I reach the limit level of the character having a notable increase in threat of the character, in addition to that now we have an improved level of critical attacks and drilling in our batman ninja character, we finally have 4 talents in the character to now add a fifth talent resulting in a total out of 5 talents for our batman ninja characters, we have 4 common talents and 1 rare type, thus totaling almost 5,000 pu more threat numbers for this character.


En esta ocasión vamos a maximizar las habilidades pasivas de batman ninja comenzando por el Aikido en la cual la subimos a nivel 5 en la que tendremos ataques críticos automáticamente por un periodo de 10 segundos al recibir ataques críticos, además esto podremos identificarlo por un aura que rodeará a batman ninja al igual que podremos realizar de forma automática ataques de perforación de armadura por 10 segundos igualmente y un aura se activara en el personaje mientras este efecto esté disponible, y esto nos deja en el nivel 6 de la habilidad alcanzo el nivel límite del personaje teniendo un aumento notable en amenaza del personaje, además de eso ahora tenemos un nivel de ataques críticos y de perforación mejorados en nuestro personaje de batman ninja, finalmente tenemos 4 talentos en el personaje para sumar ahora un quinto talento dando como resultado un total de 5 talentos para nuestros personaje batman ninja, tenemos 4 talentos comunes y 1 de tipo raro, sumando así casi 5.000 puntos de amenaza más para este personaje.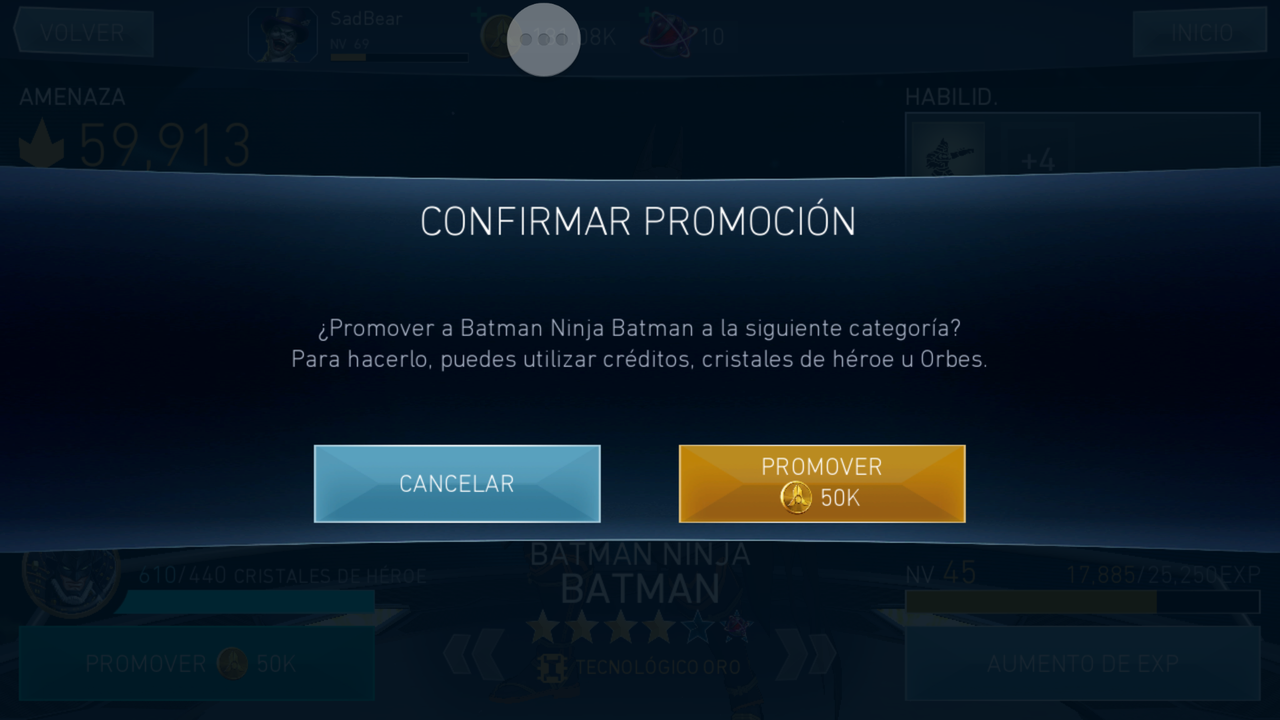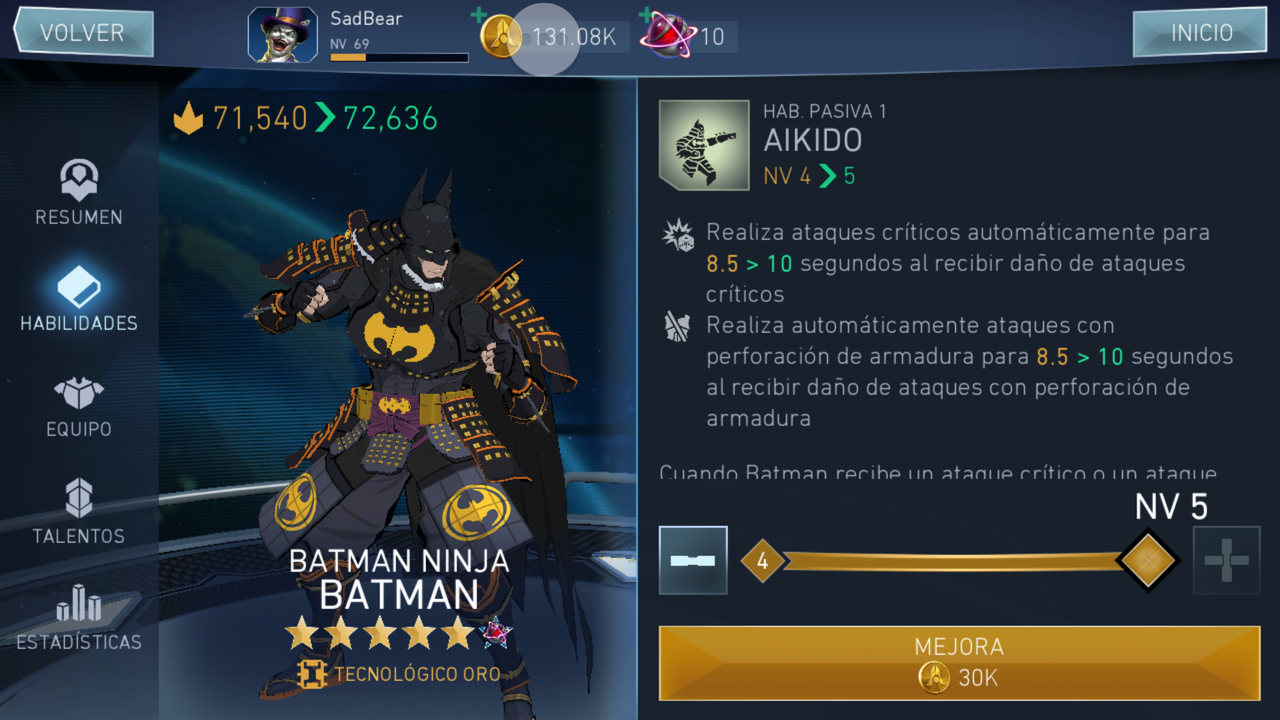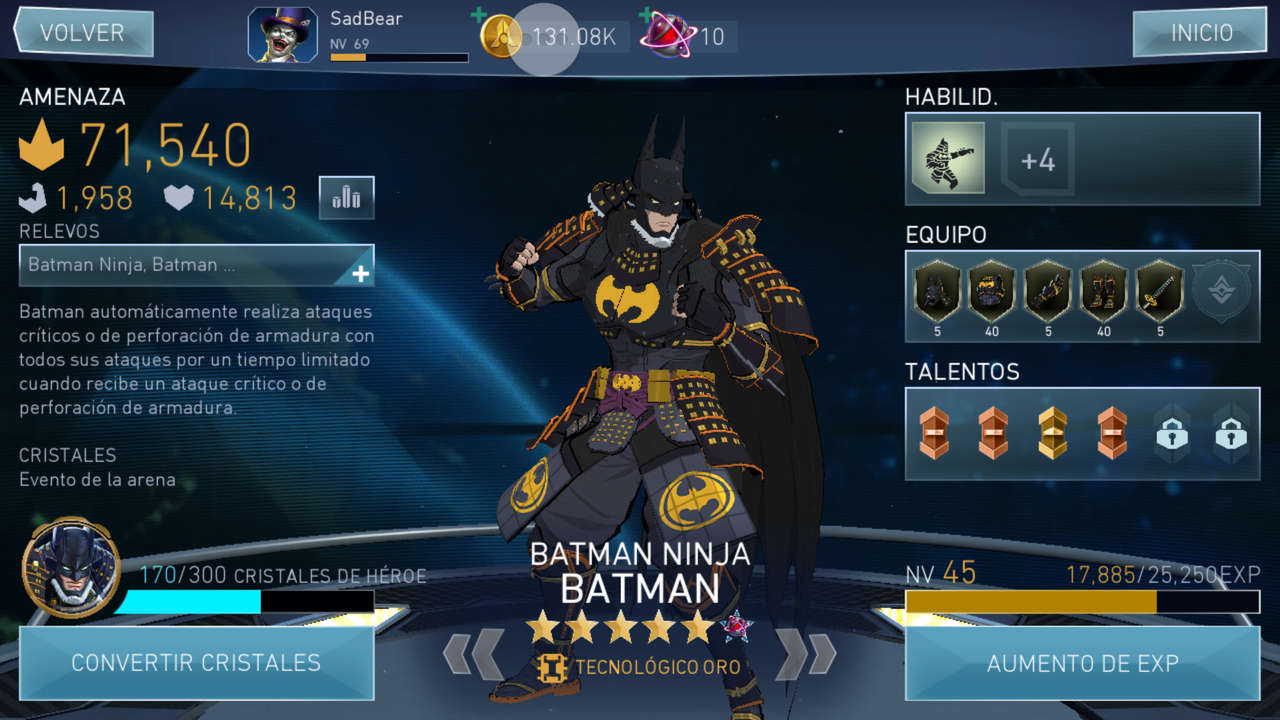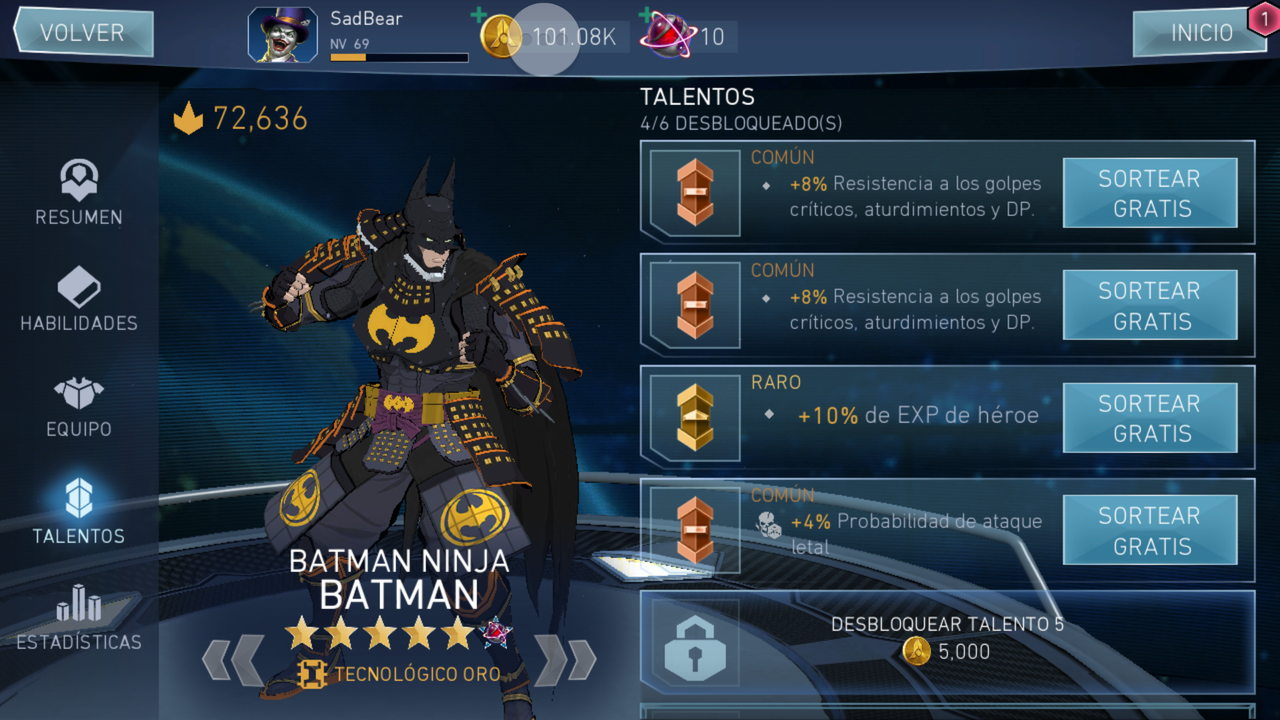 In the gears of the character we have first a level 5 for batman's samurai helmet, a level 40 for his samurai armor, and a level 5 for his gauntlets, level 40 for his samurai armor boots, and level 5 for his emblematic katana in which we can see the classic batman colors, and as you can see this character went from having a threat level of approximately 59,000 to reach a scale of 74,760 in total, now having 150% critical damage in direct attacks , in addition to a 24 probability of critical attacks, and we have a 30% resistance to attacks due to stun of other characters and a 24% resistance to prolonged damage caused by enemies or special abilities, with this threat level reached we finally have character comparisons in my rooster, catching up with characters like armored superman, and beating characters like White Canary and Mythical Wonder Woman from the Justice League, a power up that doesn't s will come excellent to continue enhancing our batman ninja team more and more.


En los gears del personaje tenemos en primer lugar un nivel 5 para el casco de samurai de batman, un nivel 40 para su armadura samurai, y un nivel 5 para sus guanteletes, nivel 40 para sus botas de armadura samurai, y nivel 5 para su katana emblemática en la que podemos ver los colores clásicos de batman, y como pueden observar este personaje pasó de tener un nivel de amenaza de aproximadamente del 59.000 para llegar a una escala del 74.760 en total teniendo ahora un 150% de daño crítico en ataques directos, además de un 24 de probabilidad de ataques críticos, y tenemos un 30% de resistencias de ataques a por aturdimiento de otros personajes y un 24% de resistencia al daño prolongado causado por enemigos o habilidades especiales, con este nivel de amenaza alcanzado tenemos finalmente las comparaciones del personaje en mi rooster, alcanzando a personajes como superman blindado, y superando a personajes como White canary y Wonder Woman Mítica de la liga de la justicia, un power up que nos vendrá excelente para seguir potenciando nuestro equipo de batman ninja cada vez más.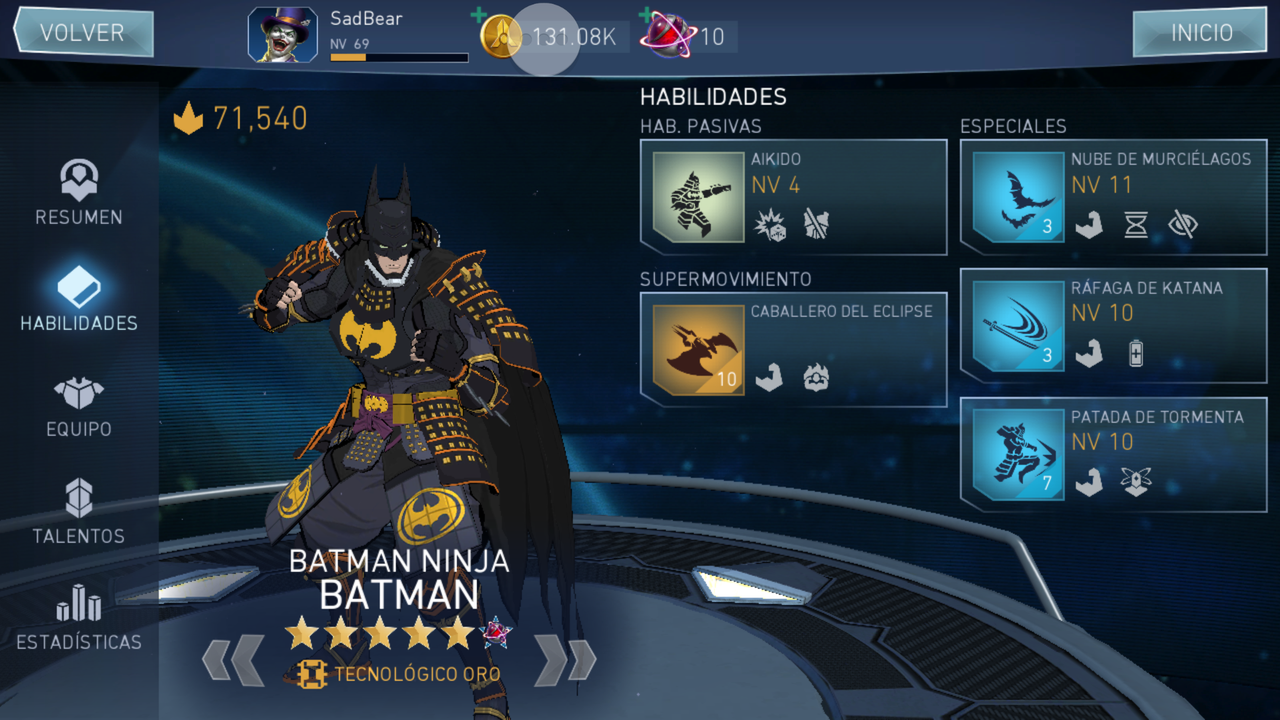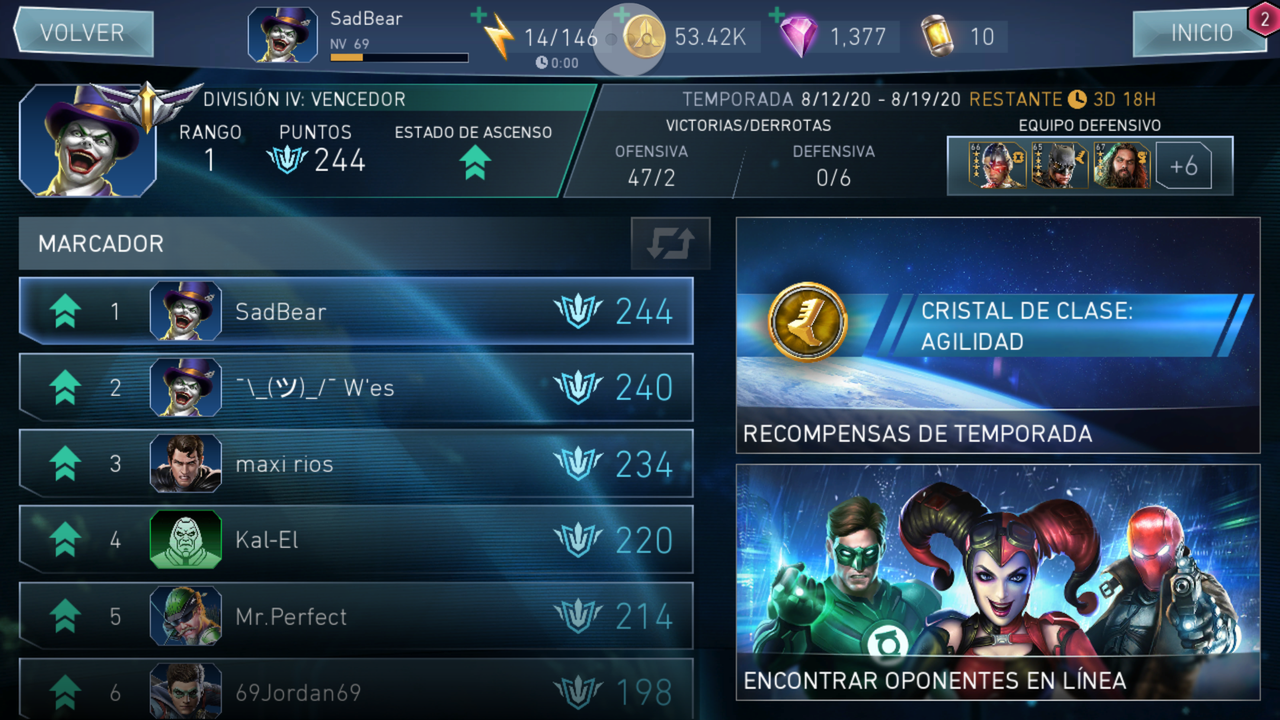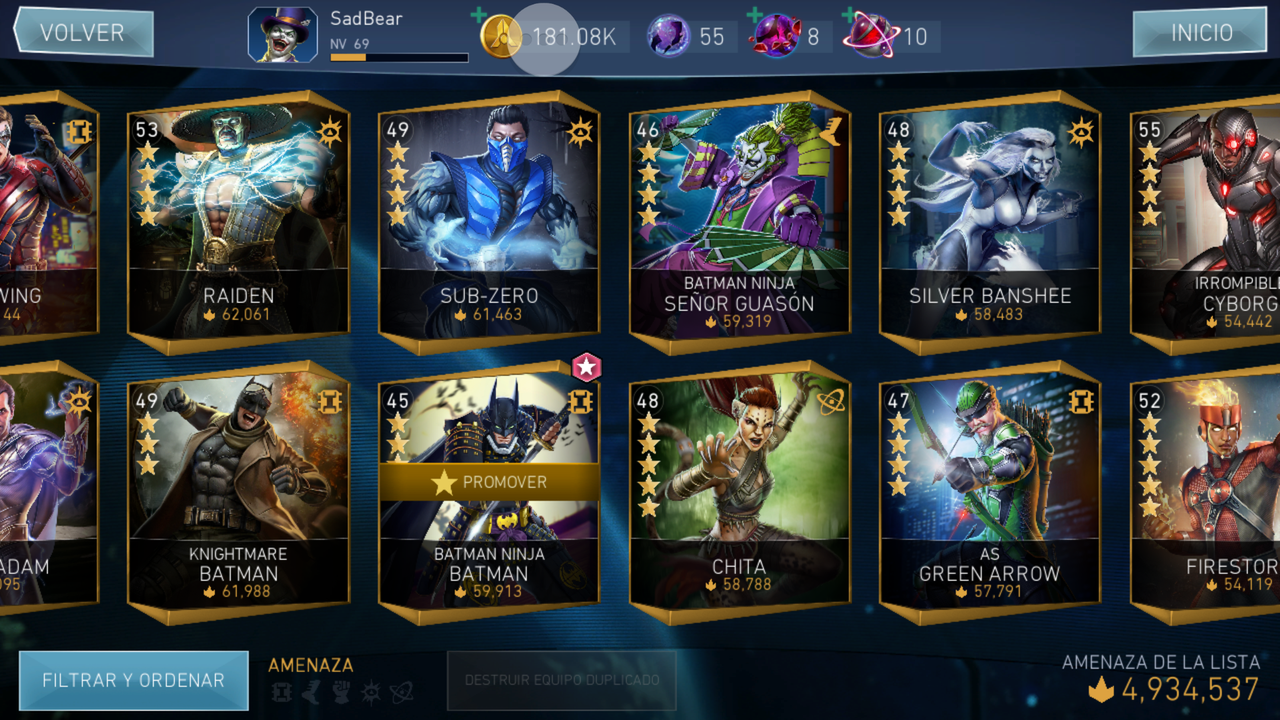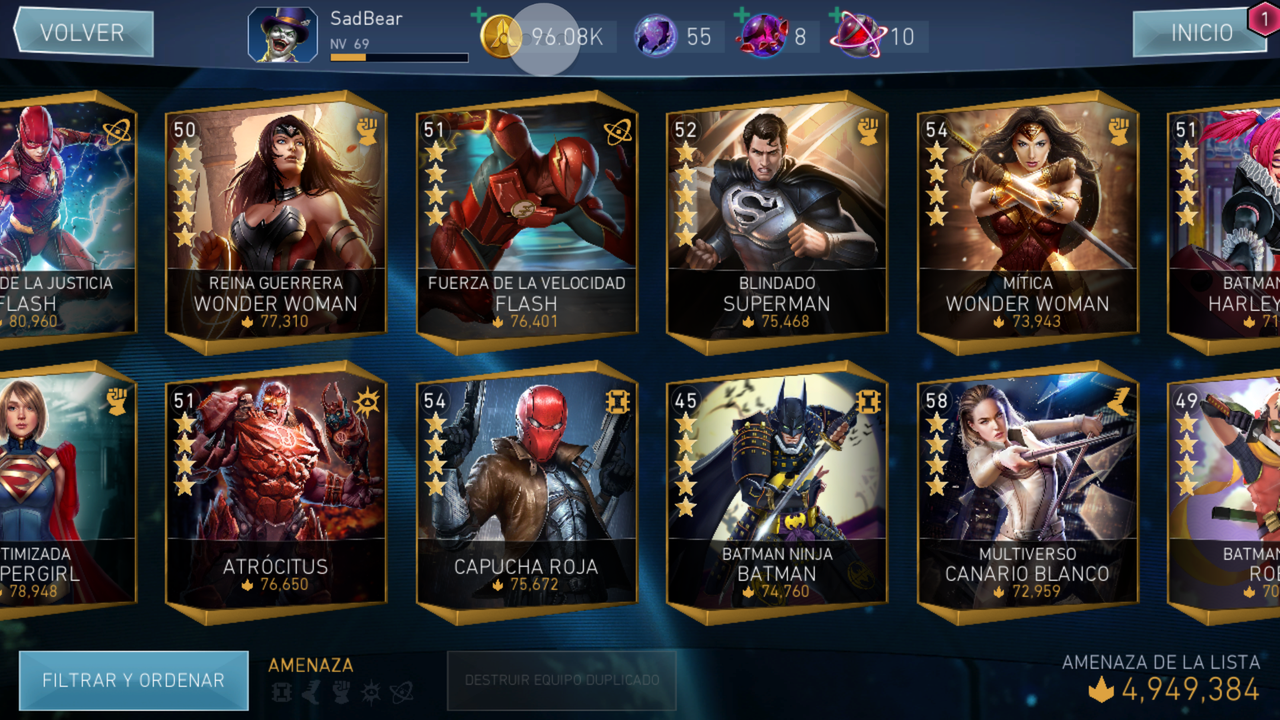 And so far today's post Hivers, I hope you liked it, but above all you enjoyed it, what did you think of these new improvements and power ups for batman ninja? Would you like to see the character soon in his maximum category and make a A deeper analysis of your special abilities? Let me know in the comments, if you like my content, don't forget to follow me so you don't miss anything in your Hive feed or on the contrary, visit my website in wordpress, without more to say I wish you Good morning, afternoon or evening, SadBear says goodbye from the cave, Until another time❗🐻🚀

All the images and gifs you saw in this post were taken and edited by me from Injustice 2 Mobile INGAME.🐺
Captures taken With Samsung S5 Edge.🐯
Add me in discord if you want to give me suggestions for posts or know some information # SadBear # 6392👽
VISIT MY SITE ON WORDPRESS👻 SadBear Web

Y hasta aquí el post de hoy Hivers, espero que les haya gustado, pero sobretodo lo hayan disfrutado, ¿Qué te parecieron estas nuevas mejoras y power ups para batman ninja?, ¿Quisieras ver al personaje próximamente en su categoría máxima y que haga un análisis más profundo a sus habilidades especiales?, házmelo saber en los comentarios, si te gusta mi contenido no olvides seguirme para no perderte de nada en tu feed de Hive o por el contrario visita mi página web en wordpress, sin más que decir te deseo unos buenos días, tardes o noches, Desde la Cueva se Despide SadBear ❗Hasta otra ocasión❗🐻🚀

Todas las imágenes y gifs que viste en este post fueron sacadas y editadas por mí de Injustice 2 Mobile INGAME.🐺
Capturas tomadas Con Samsung S5 Edge.🐯
Agrégame en discord si quieres darme sugerencias para posts o saber alguna información #SadBear#6392👽
VISITA MI SITIO EN WORDPRESS👻 SadBear Web