🐱‍🏍⚡🌍Injustice 2 Mobile: Black Lightning Multiverse Promoted to 5 Stars ⚡💪🌩☄⭐⭐⭐⭐⭐ / Black Lightning Multiverso a 5 Estrellas ⚡💪🌩☄⭐⭐⭐⭐⭐
🔵English⚫🟡Español🔴
Hello Hivers❗🐝 welcome to a new post, first of all the reason why I have been absent so many days on the blog is because I had health-related problems in addition to an orthodontic problem, which resulted in not being able to to maintain my activity normally as I usually have it, currently I have recovered a lot despite the fact that the orthodontic problem will require an outpatient operation that at the moment I have not carried out yet, but for the moment I feel well enough to finally be able to have activity again on the blog, the truth is that I would have liked to participate in several contests that I have seen on the blockchain and other types of content in which I have been working but little by little I will vary the content and bring a little more variety as that I recover, so once all this has been explained, we return today with a post that I usually frequent a lot that is about injustice 2 mobile, and today have We are promoting the character Black Lightning Multiverso! Having said this, join me, and let the post begin ❗🐻🚀🎮
❗Hola Hivers❗🐝 bienvenidos a un nuevo post, antes que nada la razón por la cual he estado ausente tantos días en el blog es debido a que tuve problemas relacionados a salud además de un problema de ortodoncia, que dieron como resultado que no pudiera mantener mi actividad normalmente como lo tengo de costumbre habitualmente, actualmente me he recuperado bastante a pesar de que el problema de ortodoncia requerirá una operación ambulatoria que de momento no me he realizado todavía , pero por el momento me encuentro lo suficientemente bien para finalmente poder tener actividad nuevamente en el blog, la verdad me hubiera gustado participar en varios concursos que he visto por la blockchain y otro tipo de contenido en los que he estado trabajando pero poco a poco iré variando el contenido y trayendo un poco más de variedad a medida de que me recupere, así que una vez explicado todo esto, volvemos hoy con un post que suelo frecuentar mucho que es sobre injustice 2 mobile, y el día de hoy tenemos la promoción del personaje Black Lightning Multiverso!, dicho esto acompáñenme ❗y que comience el post ❗🐻🚀🎮




Black Lightnin multiverse is a character with a good amount of power in the rooster of the multiverse characters in addition to being a character that can serve very well as a support or offensive character in some cases if we know how to use the character correctly and precisely However, it is a character that requires a bit of practice so that it can be used correctly, this character, in addition to having good blow combos, has good passive abilities that we will analyze below.



Black Lightnin multiverso es un personaje con una buena cantidad de poder en el rooster de los personajes del multiverso además de ser un personaje que puede servir muy bien como personaje de support o de ofensiva en algunos casos si sabemos utilizar el personaje de forma correcta y precisa, no obstante es un personaje que requiere un poco de práctica para que se pueda usar de forma correcta, este personaje además de tener buenos combos de golpes, tiene buenas habilidades pasivas que analizaremos a continuación.



Something to note is that this character is from the gold division, we start first with the passive ability called Overload, with this passive ability, we will have 5% of life regenerated for each time an enemy uses a skill that can begin to drain our power, this also will not prevent our power from being drained but as compensation we will be able to regenerate the life of our team of characters, something that if we know how to use correctly will help us to drain the power of the character in a great way, this will also give us an advantage that It will cost 1 more power bar to the opponents when fighting against multiverse characters, all this with the level 5 improvement of the character, in 4 stars we had a character threat of 65,864, with the character already promoted to 5 stars we have a total of 79,000 power level so the improvement in our character is quite remarkable.


Algo a destacar es que este personaje es de la división de oro, comenzamos primero por la habilidad pasiva llamada Sobrecarga, con esta habilidad pasiva, tendremos un 5% de vida regenerada por cada vez que algún enemigo utilice alguna habilidad que pueda comenzar a drenar nuestro poder, esto igualmente no evitará que nuestro poder sea drenado pero como compensación podremos regenerar la vida de nuestro team de personajes, algo que si sabemos utilizar correctamente nos ayudará a drenar de gran manera el poder del personaje, esto además nos dará una ventaja que le costará 1 barra más de poder a los oponentes cuando pelee contra personajes del multiverso, todo esto con la mejora de nivel 5 del personaje, en 4 estrellas teníamos una amenaza del personaje de 65.864, con el personaje ya promocionado a 5 estrellas tenemos un total de 79.000 de nivel de poder por lo que la mejora en nuestro personaje es bastante notable.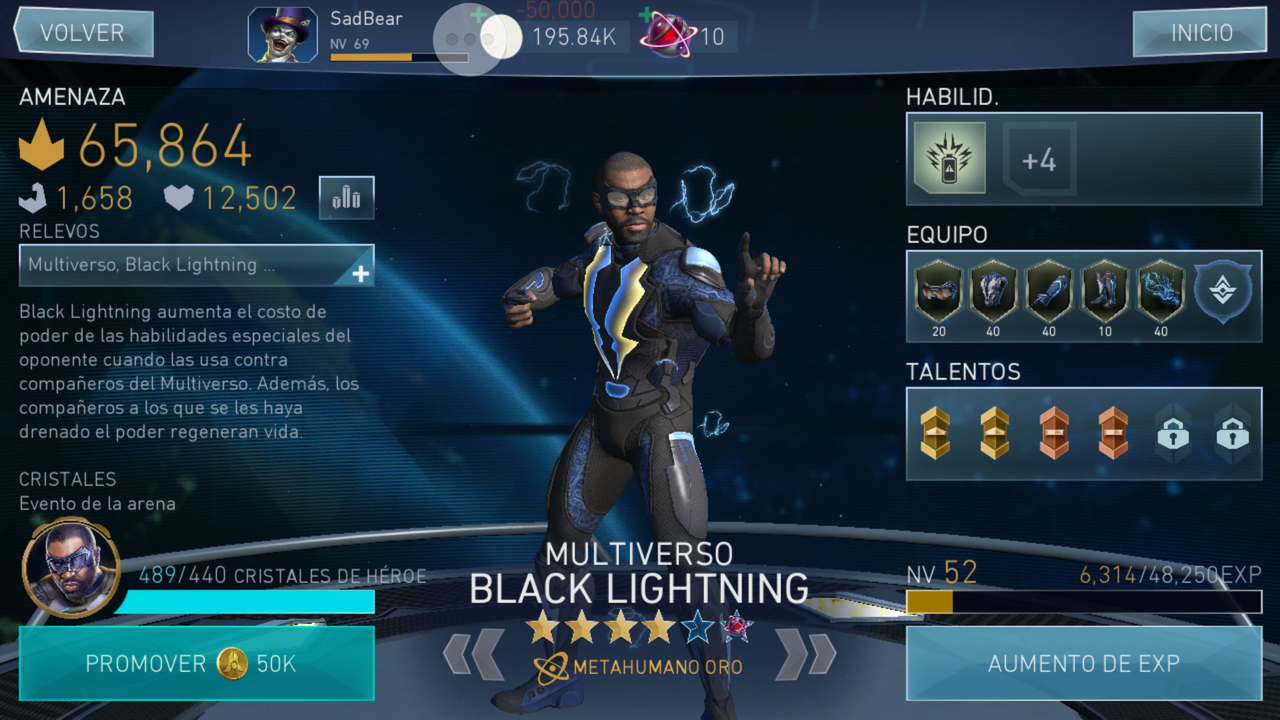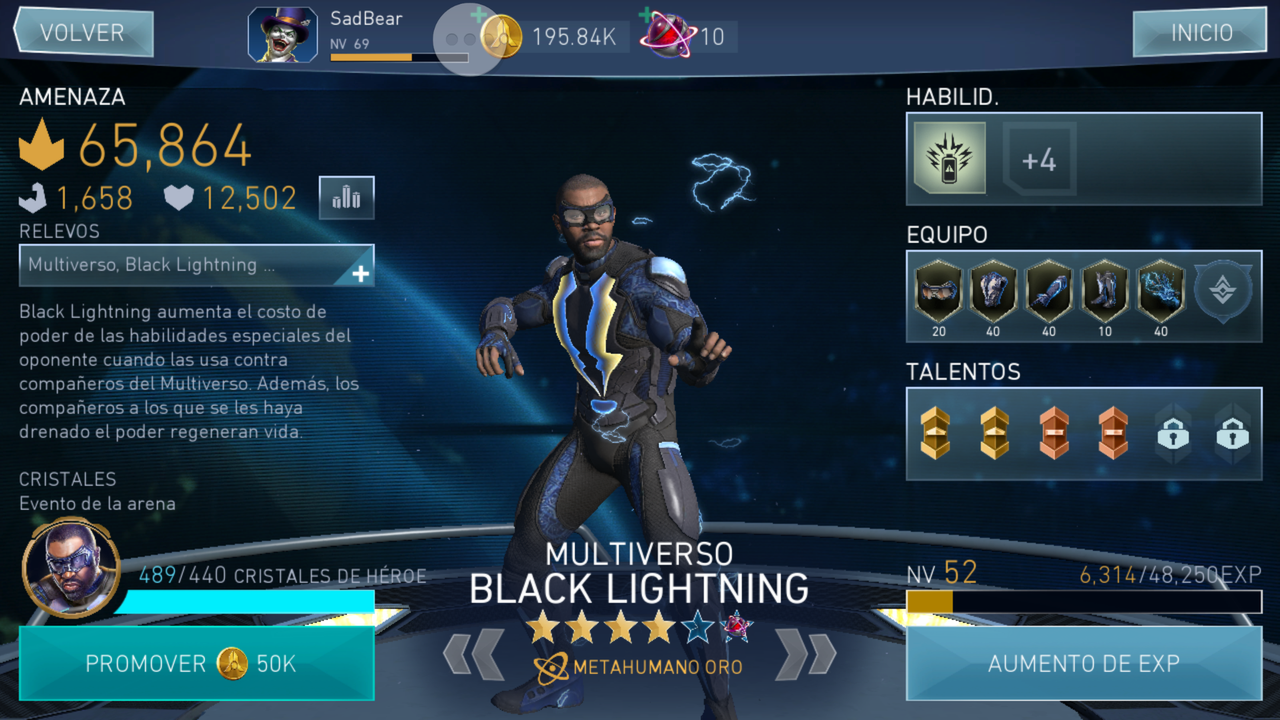 The difference between this character and its version of injustice 2 in its console or PC version is that Black Lightnin in the ps4 version as such is not a character fully added to the rooster, but rather is a premium skin of the character of raiden that gives the appearance and voice and effects of the character Black Lightnin and the aesthetics and design of the character is the classic comic book character, while in the case of injustice 2 mobile we have the design of Black Lightnin multiverse which belongs to the universe extended of the DC series so it has the original design and model of the actor who plays the character in the series, returning to the relevant aspects of the character in his gears we have a level 20 in his mask a level 40 in his special armor , a level 40 in his gloves, a level 10 in his boots, and finally a level 40 in the power ray gear of the character that in general gives the level of attack or power to the character, in the talents of the person Aje in principle we have 2 rare type and 2 common type, by drawing talents we now obtain a new rare talent for the character, with which we finally have 5 rare talents in which there are 3 rare type and 2 common type in total.


La diferencia de este personaje con su versión de injustice 2 en su versión de consola o PC, es que Black Lightnin en la versión de ps4 como tal no es un personaje íntegramente agregado al rooster, si no más bien es una skin premium del personaje de raiden que le da el aspecto y voz y efectos del personaje Black Lightnin y la estética y diseño del personaje es la clásica del cómic del personaje, mientras que en el caso de injustice 2 mobile tenemos el diseño de Black Lightnin multiverso el cual pertenece al universo extendido de las series de DC por lo que cuenta con el diseño original y modelo del actor que interpreta al personaje en la serie, volviendo a los aspectos relevantes del personaje en sus gears tenemos un nivel 20 en su máscara un nivel 40 en su armadura especial, un nivel 40 en sus guantes, un nivel 10 en sus botas, y finalmente un nivel 40 en el gear de rayo de poder del personaje que en general le brinda el nivel de ataque o poder al personaje, en los talentos del personaje en principio tenemos 2 de tipo raro y 2 de tipo común, sorteando talentos obtenemos ahora un nuevo talento raro para el personaje, con lo que finalmente tenemos 5 talentos raros en los cuales hay 3 de tipo raro y 2 de tipo común en total.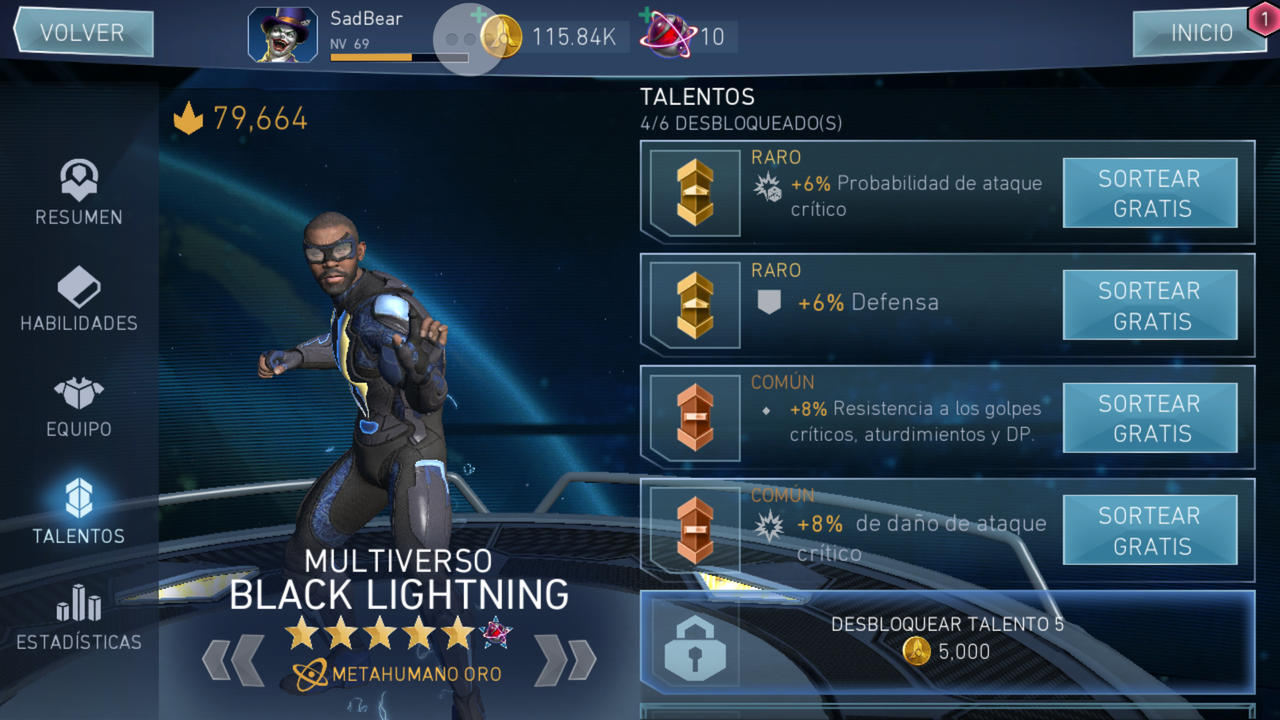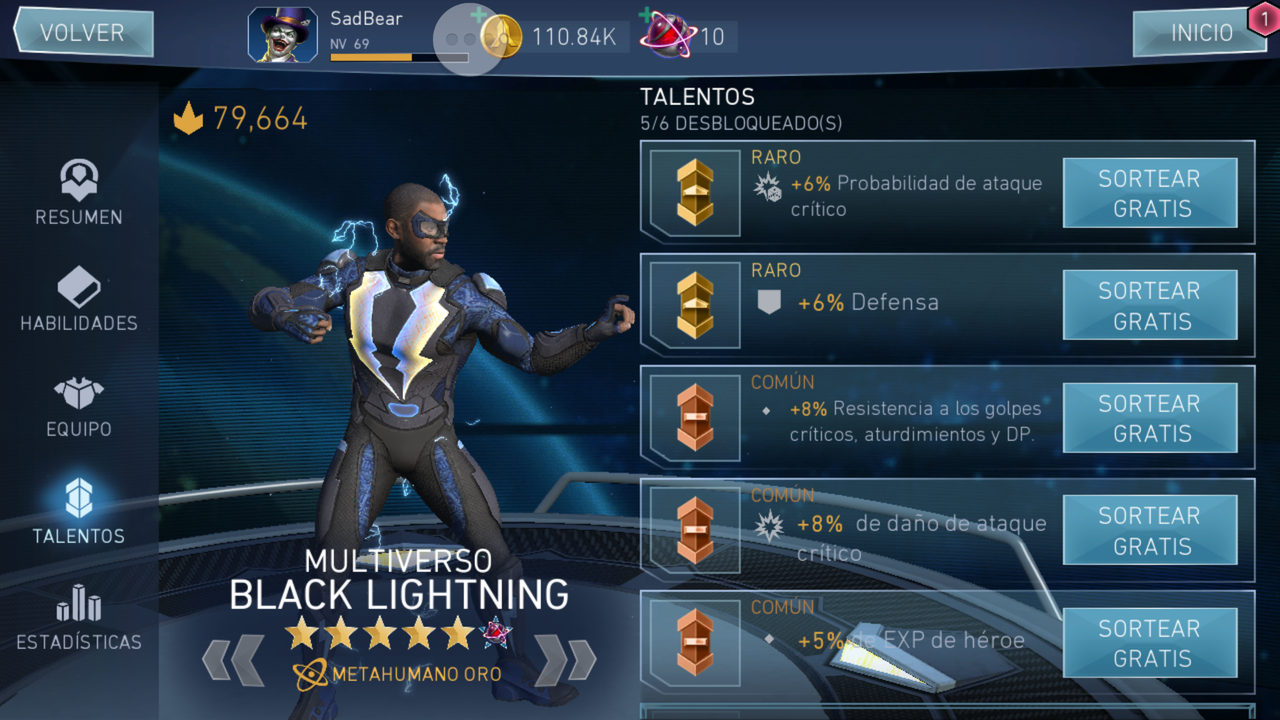 In the summary of the character we have a good improvement already reached the level of 80,242 of power for the character, in addition to obtaining 185% critical attack damage, with a 22% probability of being able to land critical hits, as a curious fact we have a total of 14,753 in the attack level, this character with this power up has obtained the level of character power as flash of justice league and surpassing characters like optimized supergirl, a quite good power up and that little by little makes stronger the characters that make up the multiverse team with the different versions of characters that I have of the rooster since luckily I have all the characters of the multiverse, in which we have characters like, Flash Multiverse, White Canary Multiverse, Green Arrow Multiverse, Batwoman Multiverse, Captain Cold Multiverse, Armored Supergirl Multiverse, and finally Black Lightning Multiverse, a character that is honestly very good in my opinion.


En el resumen del personaje tenemos una buena mejoría alcanzado ya el nivel de 80.242 de poder para el personaje, además de obtener un 185% de daño de ataque crítico, con un 22% de probabilidad de poder asestar golpes críticos, como dato curioso tenemos un total de 14.753 en el nivel de ataque, este personaje con este power up ha obtenido el nivel de poder de personaje como flash de justice league y superando a personajes como supergirl optimizada, un power up bastante bueno y que poco a poco hace más fuerte a los personajes que conforman el equipo del multiverso con las diferentes versiones de personajes que tengo del rooster ya que por suerte tengo a todos los personajes del multiverso, en los que tenemos a personaje como , Flash Multiverso, White Canary Multiverso, Green Arrow Multiverso, Batwoman Multiverso, Captain Cold Multiverso, Supergirl Blindada Multiverso, y finalmente Black Lightning Multiverso, un personaje que sinceramente es muy bueno a mi opinión.






And so far today's post Hivers, I hope you liked it, but above all you enjoyed it, what did you think of this character, did you like its design? What skill caught your attention the most? Let me know in the Comments, if you like my content, do not forget to follow me so as not to miss anything in your Hive feed or, on the contrary, visit my website in wordpress, without more to say, I wish you a good morning, afternoon or evening, From the Cave it Says Goodbye SadBear, Until another time❗🐻🚀

Captures taken With Samsung S5 Edge.🐯
All the images and gifs you saw in this post were taken and edited by me from Injustice 2 Mobile INGAME.🐺
Add me in discord if you want to give me suggestions for posts or know some information # SadBear # 6392👽
VISIT MY SITE ON WORDPRESS👻 SadBear Web

Y hasta aquí el post de hoy Hivers, espero que les haya gustado, pero sobretodo lo hayan disfrutado, ¿Qué te pareció este personaje, te gustó su diseño?, ¿Qué habilidad te llamó más la atención del personaje?, házmelo saber en los comentarios, si te gusta mi contenido no olvides seguirme para no perderte de nada en tu feed de Hive o por el contrario visita mi página web en wordpress, sin más que decir te deseo unos buenos días, tardes o noches, Desde la Cueva se Despide SadBear ❗Hasta otra ocasión❗🐻🚀

Capturas tomadas Con Samsung S5 Edge.🐯
Todas las imágenes y gifs que viste en este post fueron sacadas y editadas por mí de Injustice 2 Mobile INGAME.🐺
Agrégame en discord si quieres darme sugerencias para posts o saber alguna información #SadBear#6392👽
VISITA MI SITIO EN WORDPRESS👻 SadBear Web