🐱‍🏍⚡🌍Injustice 2 Mobile: Silver Banshee Promoted to 5 Stars 👻☄💥🩸⭐⭐⭐⭐⭐ / Silver Banshee a 5 Estrellas 👻☄💥🩸⭐⭐⭐⭐⭐
⚪English⚫🟡Español🔵
Hello Hivers❗🐝 welcome to a new post, in which we are going to return to injustice 2 mobile to promote a very special golden character, and the division of archaic characters, in addition to that we will have some very special improvements for this character Having said this, join me, and let the post begin ❗🐻🚀🎮
❗Hola Hivers❗🐝 bienvenidos a un nuevo post, en el cual vamos a volver a injustice 2 mobile para promover a un personaje de oro muy especial, y de la división de personajes arcaicos, además de que tendremos algunas mejoras muy especiales para este personaje, dicho esto acompáñenme ❗y que comience el post ❗🐻🚀🎮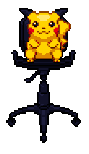 The character of which we will promote today is nothing more and nothing less than Silver Banshee, a character from the archaic series, and who is from the gold division, this character as a curious fact came out in a Halloween update of the video game, so we are currently on dates in which in past years this character was revealed as a new update in the video game, without a doubt it is a character that has very good and very effective skills in combat so we will begin to promote it to begin to improve his skills.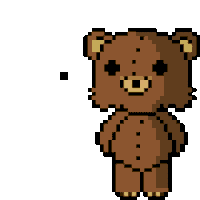 El personaje del cual haremos una promoción hoy es de nada más y nada menos que de Silver Banshee un personaje de la serie de arcaicos, y que es de la división de oro, este personaje como dato curioso salió en una actualización de Halloween del videojuego, por lo que actualmente estamos en fechas en las que en años pasados este personaje fue revelado como nueva actualización en el videojuego, sin duda alguna es un personaje que tiene habilidades muy buenas y muy efectivas en combate por lo que comenzaremos a promocionarlo para comenzar a mejorar sus habilidades.


To begin we have the threat of the character at the level of 58,000, so we are going to proceed to promote the character to 5 stars finally which will cost 50,000 gold this time, this character was also at the power level of characters such as deadshot suicide squad and Joker Batman ninja, finally we already have the character in 5 stars with an increase in threat of almost 75,000 so we have a good improvement in threat level once I have promoted the character let's start analyzing his abilities a little, this character is named in his special ability 1, "cursed touch" with this ability Silver Banshee will release a very powerful scream with which he will hurt the opponent and also in the character's fists we will obtain a kind of purple aura that will give us a total of 2,051 damage in addition to a 10% probability of inflicting the torment state with which we will have 7 seconds available to continue attacking the o speaker and do considerable damage, I have finally raised this skill to level 10.


Para comenzar tenemos la amenaza del personaje en el nivel de 58.000, por lo que vamos a proceder a promover el personaje a 5 estrellas finalmente lo cuál tendrá un costo de 50.000 de oro en esta ocasión, este personaje además se encontraba en el nivel de poder de personajes como deadshot suicide squad y de Joker Batman ninja, finalmente ya tenemos al personaje en 5 estrellas con un aumento de amenaza de casi 75.000 por lo que tenemos una buena mejoría en nivel de amenaza una vez que ya he promovido el personaje comencemos a analizar un poco sus habilidades, este personaje lleva por nombre en su habilidad especial 1, "toque maldito" con este habilidad Silver Banshee soltará un grito muy potente con el cuál hará daño al oponente y también en los puños del personaje obtendremos una especie de aura morada que nos proporcionará un total de 2.051 de daño además de 10% de probabilidad de infligir el estado de tormento con el que tendremos 7 segundos disponible para poder seguir atacando al oponente y hacer daño considerable, esta habilidad finalmente la he elevado al nivel 10.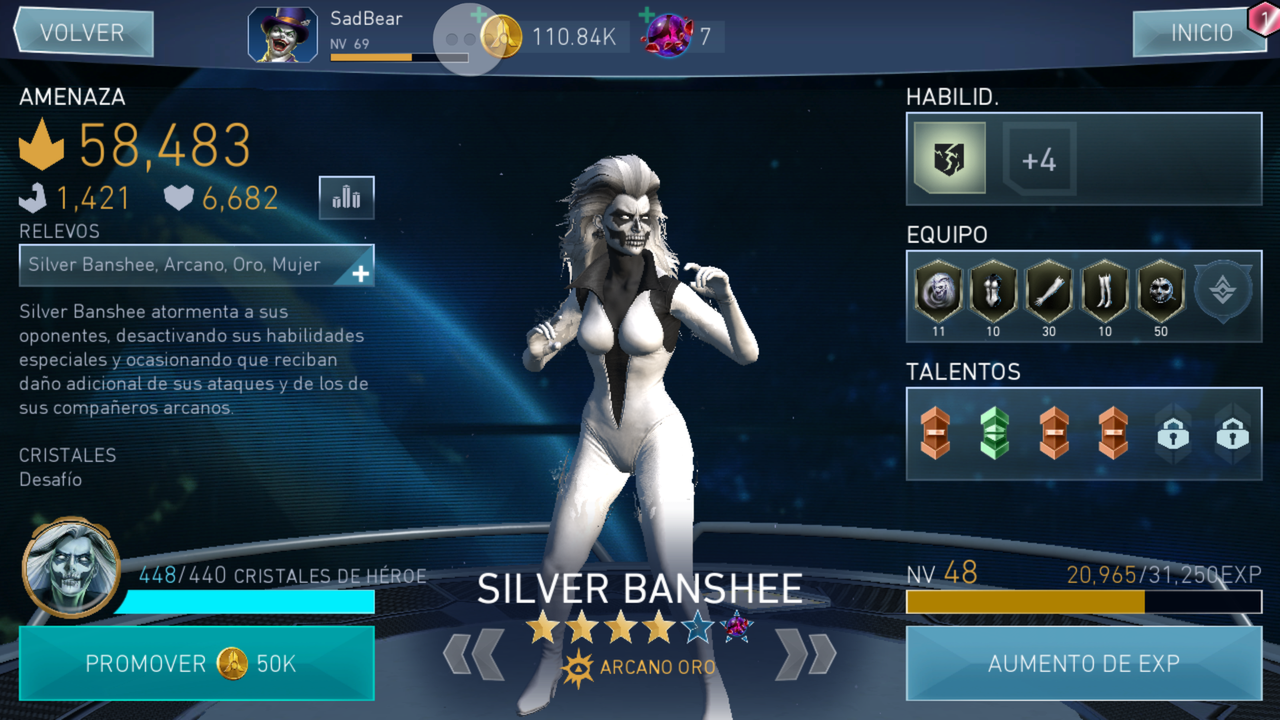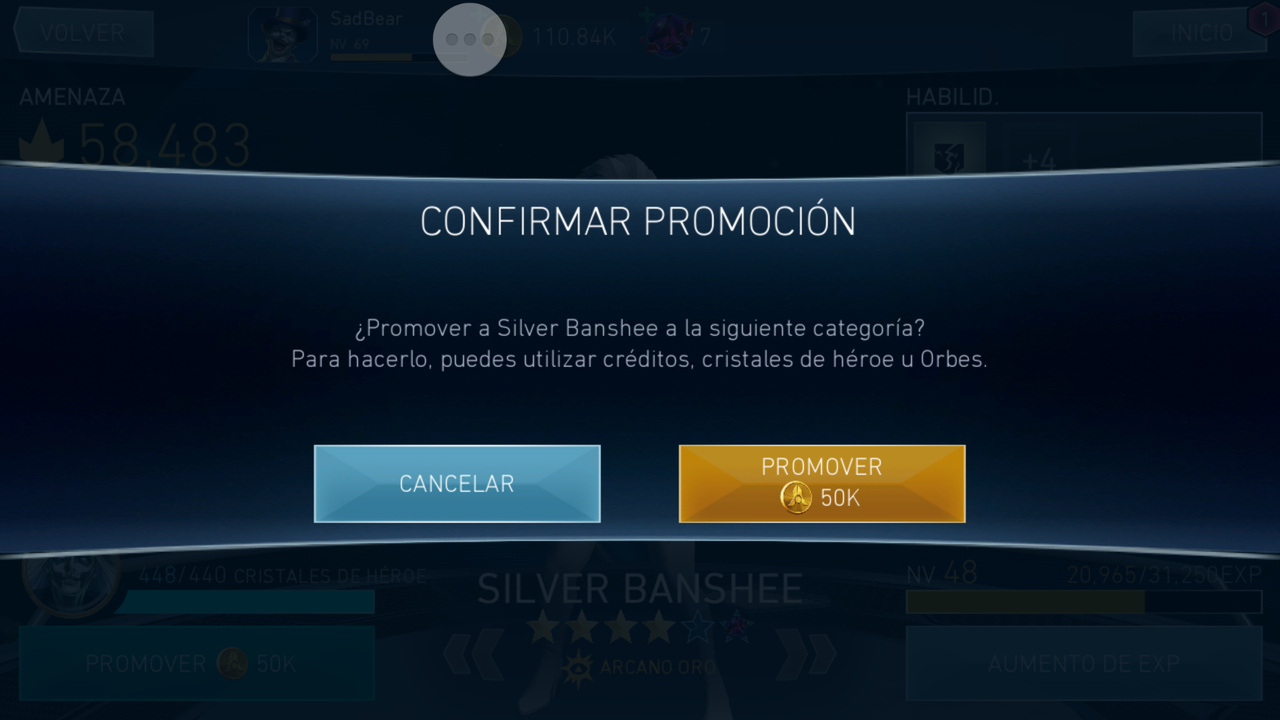 Another special ability that this character has is the so-called "Terrifying Lament" with which the silver banshe will make a direct shout at the opponent that can take him out of combat and force another member of the enemy team to enter the fight, and this will also prevent that the enemy can re-enter the same character for an amount of 10 seconds with the improvement to level 10, in addition to that if we manage to kill all the characters of the other team leaving only one opponent in case he is not a boss of invasion or event, we can deactivate all the opponent's special abilities for a period of approximately 7 seconds, an ability that I have also increased to level 10 for better effectiveness in combat with the promotion of 5 stars of the character, we also have the ability called " Sonic Blast "with which the silver banshe will rise to a considerable height to make a very powerful scream that will do a lot of damage to the enemy, more we will have advantages such as being able to do 30% more damage for each special ability deactivated by the character's torment ability, in addition to that he will also receive damage increasing if he is affected by other abilities of silver banshe, this ability has also been increased at level 10.


Otra habilidad especial que tienes este personaje es la llamada "Lamento Aterrador" con la que silver banshe efectuara un grito directo al oponente que lo podrá sacar de combate y obligar a que otro integrante del equipo enemigo entre al combate, y esto además va a impedir que el enemigo pueda volver a ingresar el mismo personaje por una cantidad de 10 segundos con la mejora a nivel 10, además de eso si logramos acabar con todos los personajes del otro equipo dejando únicamente a un oponente en caso de que no sea un jefe de invasión o evento, podremos desactivar todas las habilidades especiales del oponente por un periodo de 7 segundos aproximadamente, una habilidad que también he aumentado a nivel 10 para mejor efectividad dentro del combate con la promoción de 5 estrellas del personaje, tenemos también la habilidad llamada "Explosión Sónica" con la que silver banshe se alzará a una altura considerable para poder efectuar un grito muy potente que le hará mucho daño al enemigo, que además tendremos ventajas como poder efectuar un 30% más de daño por cada habilidad especial desactivada por la habilidad de tormento del personaje, además de que este también recibirá daño aumentando si se encuentra afectado por otras habilidades de silver banshe, esta habilidad también la he aumentado a nivel 10.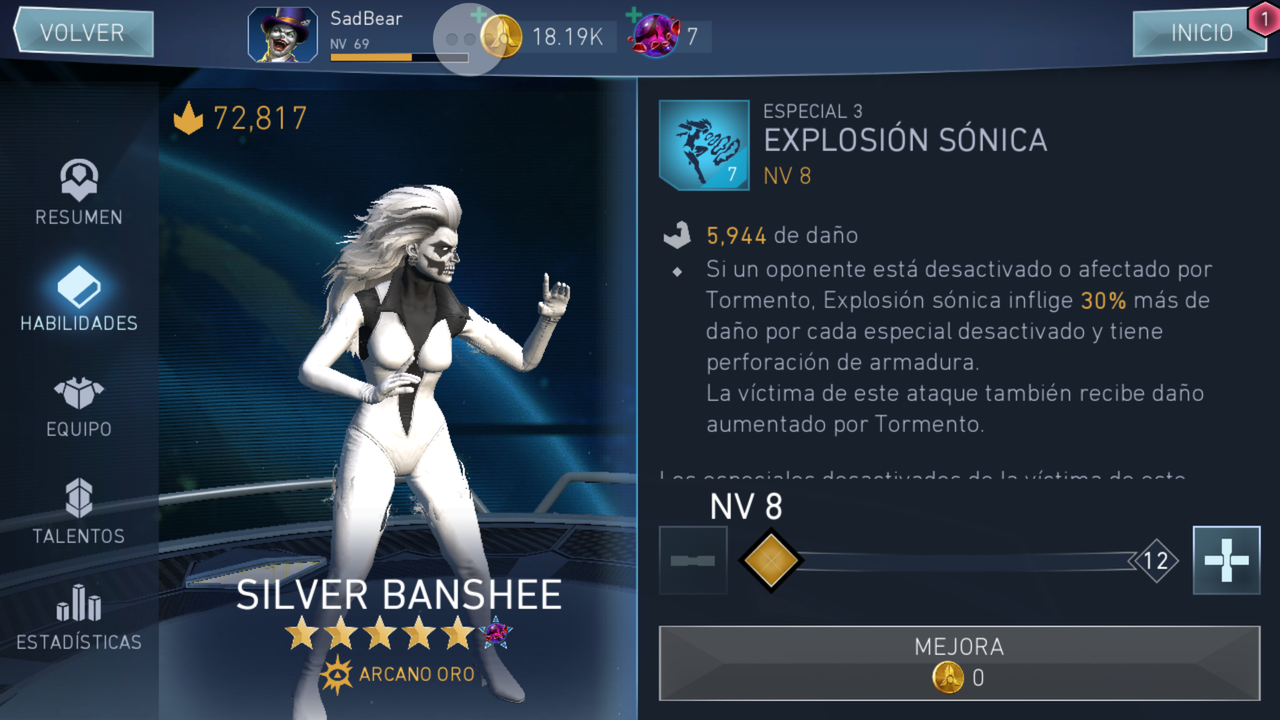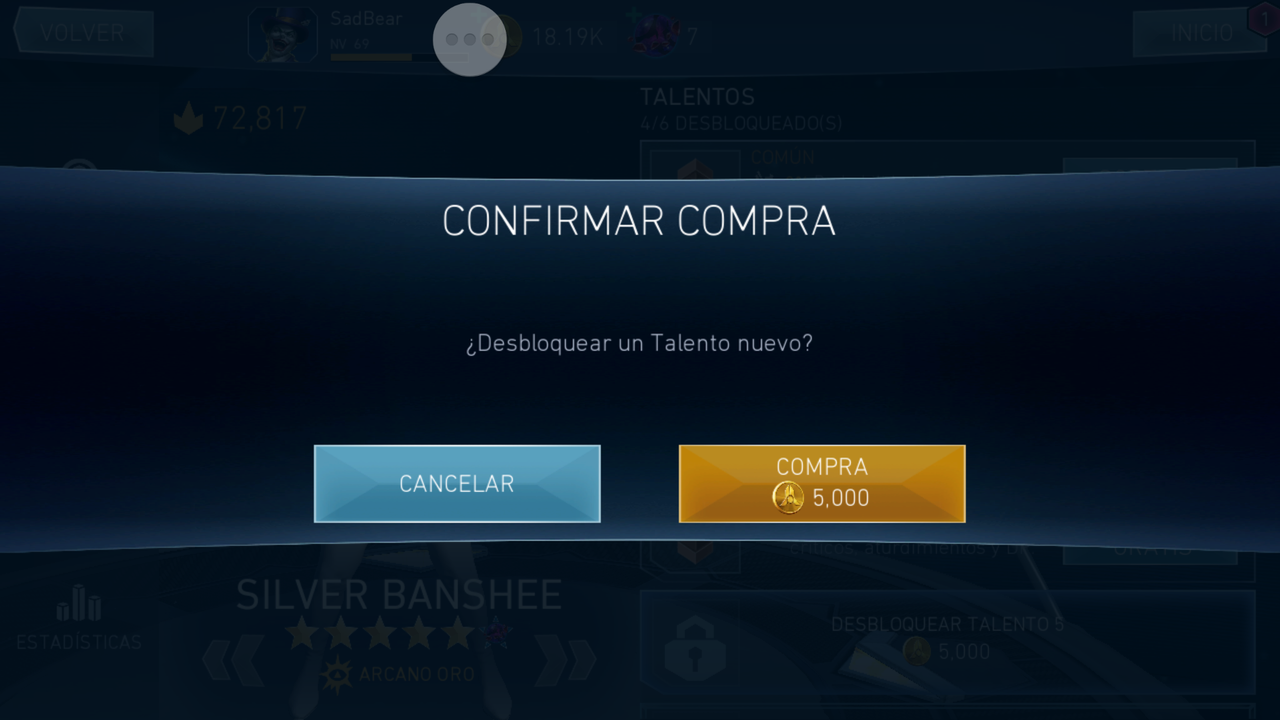 Among the character's talents we have a total of 3 common talents, 1 epic talent and 1 rare talent, so in total we have 5 talents, the rare talent being the new addition with this character promotion that gives us a 6% probability of critical attacks against enemies with basic attacks and sweeps, it should be noted that the epic talent of the character gives us a total of 24% damage per critical attack, this is how finally we will also improve to level 5 the passive ability of the character called "torment Raptor "with which we will now have with the improvements a 90% probability of deactivating abilities of the enemies in combat, in addition to having a 10% to ignore the incoming prolonged damage by the abilities of other characters or secondary effects of their attacks, This passive ability also provides maximum damage if we manage to land the special blows that the silver banshe abilities give us, in summary we have a total of 74,884 threat to the character, in addition to having 180% damage from critical attacks of the character with a probability of 42%, without a doubt this arcane character has received a good improvement that increases my general threat level even more in my rooster of injustice 2 mobile.


Entre los talentos del personaje tenemos un total de 3 talentos comunes 1 talento épico y 1 talento raro, por lo que en total tenemos de 5 talentos siendo el talento raro la nueva adición con esta promoción del personaje que nos brinda un 6% de probabilidad de ataques críticos contra enemigos con ataques básicos y barridos, cabe destacar que el talento épico del personaje nos brinda un total de 24% de daño por ataque crítico, es así como finalmente vamos a mejorar también al nivel 5 la habilidad pasiva del personaje llamada "tormento arrebatador" con la que tendremos ahora con las mejoras un 90% de probabilidad de desactivar habilidades de los enemigos en combate, además de tener un 10% de ignorar el daño prolongado entrante por parte de habilidades de otros personajes o efectos secundarios de sus ataques, esta habilidad pasiva además brinda daño maximizado si logramos asestar los golpes especiales que nos brinda las habilidades de silver banshe, en resumen tenemos un total de 74.884 de amenaza para el personaje, además de tener un 180% de daño por ataques críticos del personaje con una probabilidad de 42%, sin duda alguna este personaje arcano ha recibido una buena mejora que aumenta todavía más mi nivel de amenaza general en mi rooster de injustice 2 mobile.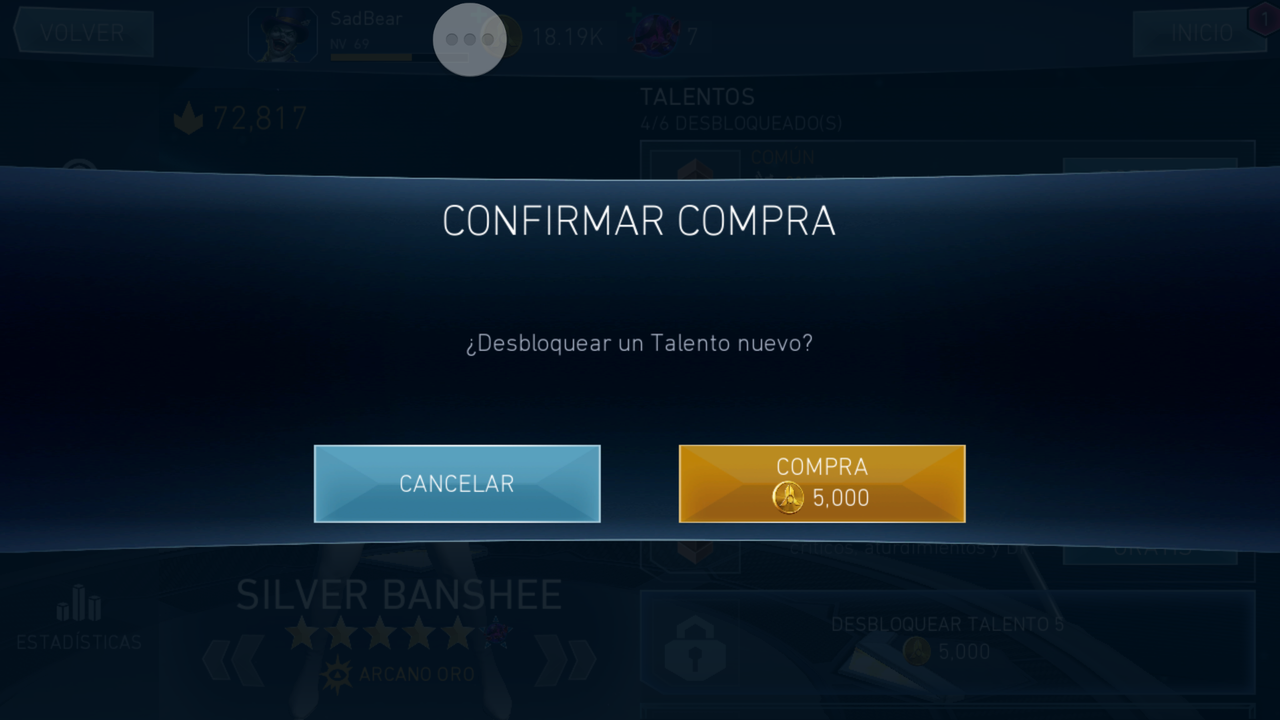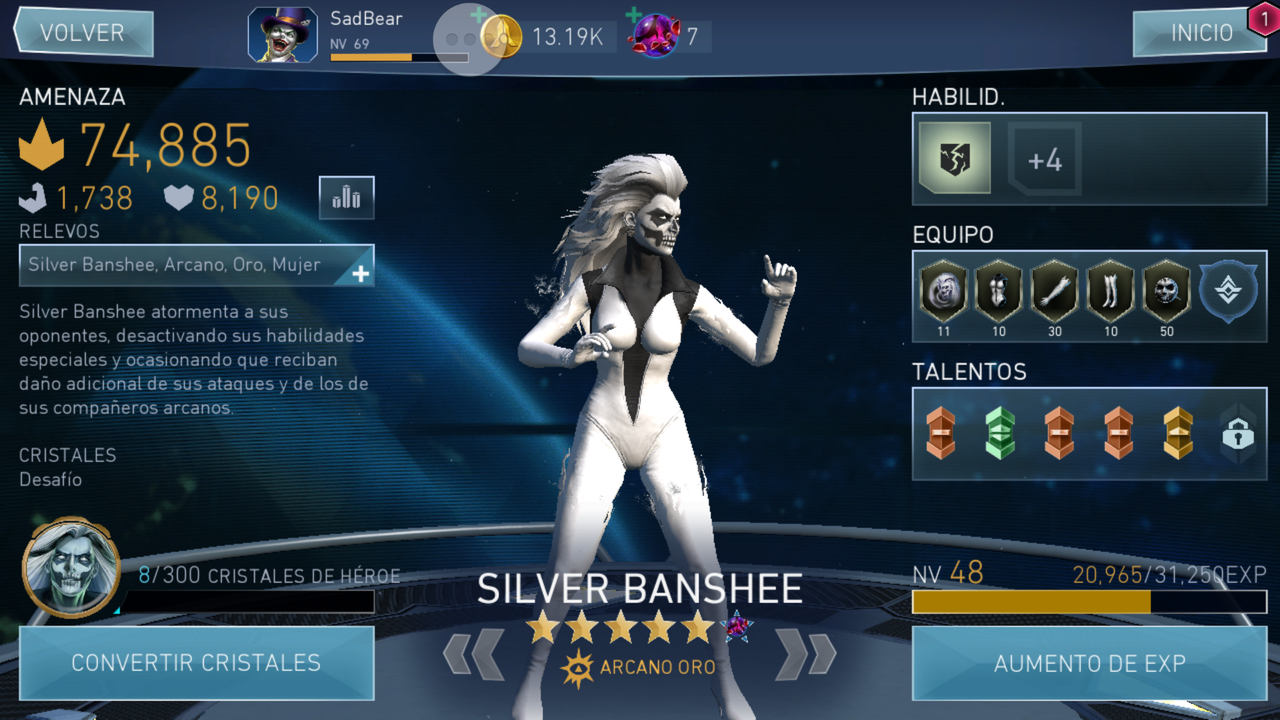 And so far today's post Hivers, I hope you liked it, but above all you enjoyed it, what did you think of the Silver Banshee character? Would you like to see this character in 6 stars? Let me know in the comments, yes Do you like my content do not forget to follow me so as not to miss anything in your Hive feed or on the contrary visit my website in wordpress, without more than saying I wish you a good morning, afternoon or evening, SadBear says goodbye from the cave, Until another time❗🐻🚀
All the images and gifs you saw in this post were taken and edited by me from Injustice 2 Mobile INGAME.🐺
Add me in discord if you want to give me suggestions for posts or know some information # SadBear # 6392👽
VISIT MY SITE ON WORDPRESS👻 SadBear Web
Captures taken With Samsung S5 Edge.🐯

Y hasta aquí el post de hoy Hivers, espero que les haya gustado, pero sobretodo lo hayan disfrutado, ¿Qué te pareció el personaje de Silver Banshee?, ¿Te gustaría ver este personaje en 6 estrellas?, házmelo saber en los comentarios, si te gusta mi contenido no olvides seguirme para no perderte de nada en tu feed de Hive o por el contrario visita mi página web en wordpress, sin más que decir te deseo unos buenos días, tardes o noches, Desde la Cueva se Despide SadBear ❗Hasta otra ocasión❗🐻🚀
Todas las imágenes y gifs que viste en este post fueron sacadas y editadas por mí de Injustice 2 Mobile INGAME.🐺
Agrégame en discord si quieres darme sugerencias para posts o saber alguna información #SadBear#6392👽
VISITA MI SITIO EN WORDPRESS👻 SadBear Web
Capturas tomadas Con Samsung S5 Edge.🐯