25 🕐⏮Games that give off memories # 56: Resident Evil 2 Original Version 🔫🩸💣🔥💥🦠🧟‍♂️🧟‍♀️/ 🕐⏮Videojuegos que desprenden nostalgia #56
🔴English🟡🔵Español🟢
Hello Hivers❗🐝 welcome to a new post, in which we are going to remember a classic and iconic video game from the ps1 console and also a famous saga that has transcended around the world for a long time and that has harvested its Once a large fan base, today in this post we will talk about nothing more and nothing less than Resident Evil 2, with that being said join me, and let the post begin ❗🐻🚀🎮
❗Hola Hivers❗🐝 bienvenidos a un nuevo post, en el cual vamos a recordar un videojuego clásico e icónico de la consola de ps1 y de una famosa saga también que ha trascendido alrededor de todo el mundo por mucho tiempo y que ha cosechado a su vez una gran base de fanáticos, hoy en este post hablaremos de nada más y nada menos que Resident Evil 2 , dicho esto acompáñenme ❗y que comience el post ❗🐻🚀🎮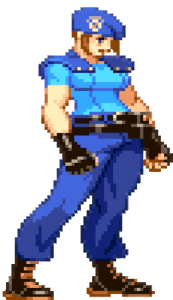 The resident evil saga has been a classic of suspense and horror video games as well, in addition to the aesthetics and aspects of its bosses, this saga is also famous for the beastly designs that some of its bosses have reaching the point of deformity morbid and bizarre, something that surely not any video game can say, and together with silent Hill they are classics of scary video games, and without a doubt one of the best zombie stories we have seen and an evil and terrifying corporation such as the dreaded Umbrella's Corporation.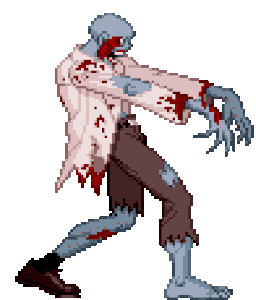 La saga de resident evil ha sido un clásico de los videojuegos de suspenso y de horror también, además de las estéticas y aspectos de sus jefes, esta saga también es famosa por los bestiales diseños que tienen algunos de sus jefes llegando al punto de la deformidad mórbida y bizarra, algo que seguramente no cualquier videojuego puede decir, y junto a silent Hill son clásicos de los videojuegos de miedo, y sin duda alguna una de las mejores historias de zombies que hemos podido ver y una corporación malvada y terrorífica como es la temida Umbrella's Corporation.



This version of resident has already obtained its deserved remake for the ps4 console and despite the fact that it is an incredible and very good video game, it is an analysis that we will leave for another post since this time we will analyze its original version, which came out for the console of Playstation 1, something that is undoubtedly a console classic as other great titles could be, this new installment was called by the full name of Resident Evil 2 Biohazard 2, as in its first installment resident evil 2 was a survival video game and of horror in which we were located in the terrifying city of Raccoon City, in which strange behaviors have recently been reported by some citizens and individuals with whom we will have to fight in the course of history because they have been infected with a species of unknown strain or virus which later in the course of history we are given to understand that this virus is a laboratory creation to be used As a biological weapon and they have called it by the name of Virus-T, this video game was also very famous for having the participation of one of the most emblematic and famous characters of the saga which is Officer Leon S. Kennedy, and also We have a young Claire Redfield, who is quite a famous famous person and surely the surname of Redfield will be familiar to them after another famous person in the saga called Chris Redfield.


Esta versión de resident ya ha obtenido su merecido remake para la consola de ps4 y a pesar de que es un videojuego increíble y muy bueno es un análisis que dejaremos para otro post ya que en esta ocasión analizaremos su versión original, que salió para la consola de Playstation 1, algo que sin duda es un clásico de la consola como lo pudieron ser otros grandes títulos, esta nueva entrega se denomino por el nombre completo de Resident Evil 2 Biohazard 2, como en su primera entrega resident evil 2 era un videojuego de supervivencia y de horror en el que nos situábamos en la terrorífica ciudad de raccoon city, en la que recientemente se han reportado comportamientos extraños por parte de algunos ciudadanos e individuos con los que tendremos que luchar en el trancurso de la historia debido a que se han infectado con una especie de cepa o virus desconocido el cuál mas adelante en el transcurso de la historia se nos da a entender que este virus es una creación de laboratorio para ser usada como arma biológica y lo han denominado por el nombre de Virus-T, este videojuego además fue muy famosos por contar con la participación con uno de los personajes mas emblemáticos y famosos de la saga el cuál es el Oficial Leon S. Kennedy, y también contamos con una joven Claire Redfield, la cual es un personaje bastante famoso famoso y seguramente les sonará mucho el apellido de Redfield por otro personaje famosos de la saga llamado Chris Redfield.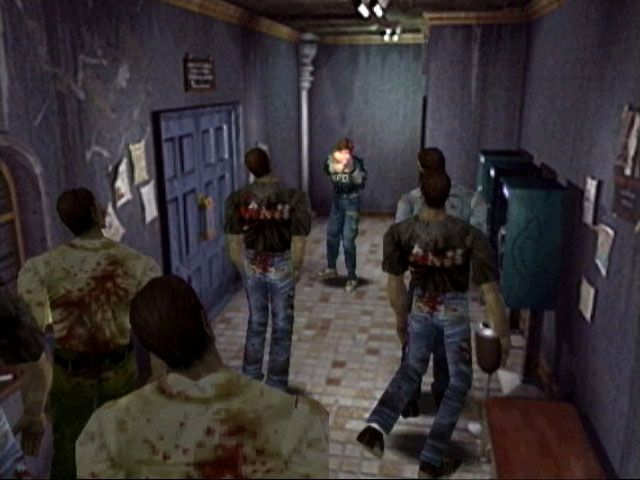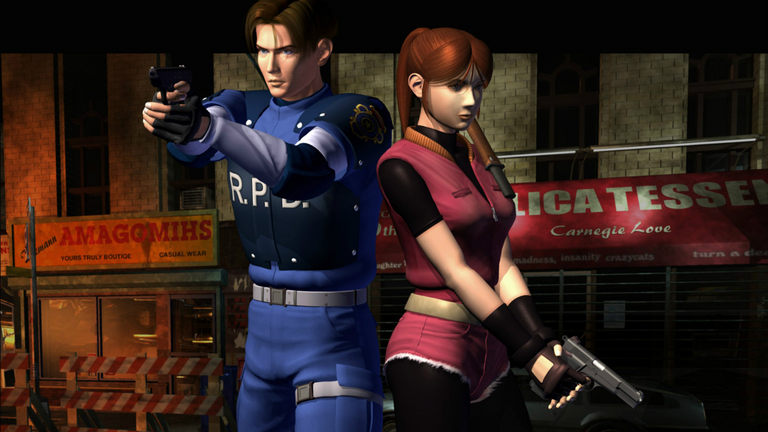 In resident evil 2 we see a more developed story of how the famous Umbrella Corps was founded, and we see many curious facts about it. For example, the outbreak of the T-virus in Raccoon City was not a planned attack but rather a total accident by this corporation, which later in the game we find out the reason for said infection, in addition to that we have as a curious fact that the events of this video game occur time after the events that occurred in the first video game of the saga, the reason that we have a young claire redfield in this video game is that his brother chris redfield which is the protagonist from the first video game he has disappeared for some reason and she decides to look for him but in the middle of her search she finds herself in a city in chaos and full of zombies where she also finds an ally and meets a young lion who is also a police officer From raccoon city, in the journey of adventure we meet Ada Wong from Leon's perspective for the first time, another quite famous character in the saga, here we are told in the game that she is looking for her boyfriend John who is later known to be an Umbrella corps investigator. Later in the story we also have a pretty good revelation and we finally see the outcome of the outbreak or the reason why the city has fallen into a total apocalypse, and that is that one of the most important scientists of Umbrella Coprs William Birkin has been The person responsible for creating the first sample of the G-virus but Umbrella realizing the risk involved in letting this scientist possess such a weapon decide to take it from him by sending Umbrella's death squad, who are well known thanks to their captain called by the pseudonym of Hunk those attack Birkin shooting him multiple times and wounding him to death, but this in an act of revenge injects himself with the virus and mutates into a terrible monster.


En resident evil 2 vemos una historia mas desarrollada de como se fundó la famosa Umbrella Corps, y vemos muchos datos curiosos de la misma. Como por ejemplo que el brote del virus-T en raccoon city no fue una ataque planeado si no que fue un accidente total por parte de esta corporación, que tiempo después en el juego nos damos cuenta de la razón de dicha infección., además de que tenemos como dato curioso que lo sucesos de este videojuego ocurren tiempo después de los sucesos ocurridos en el primer videojuego de la saga, la razón de que tengamos a un joven claire redfield en este videojuego es que su hermano chris redfield el cual es el protagonista del primer videojuego ha desaparecido por alguna razón y esta decide buscarlo pero en medio de su búsqueda se encuentra en una ciudad en caos y llena de zombies en donde también encuentra a un aliado y conoce a un joven león también el cuál es oficial de la policía de raccoon city, en el trayecto de la aventura conocemos en la perspectiva de Leon a Ada Wong por primera vez, otro personaje bastante famoso de la saga, aquí se nos cuenta en el juego que esta busca a su novio john el cual se sabe luego que es un investigador de Umbrella corps. Mas adelante en la historia también tenemos una revelación bastante buena y vemos por fin el resultado del brote o la razón por la cual la ciudad ha caído en una apocalipsis total, y es que uno de los científicos más importantes de Umbrella Coprs William Birkin ha sido el responsable de crear la primera muestra del virus-G pero umbrella al darse cuenta del riesgo que conllevaba dejarle poseer tal arma a este científico deciden quitársela enviando al escuadrón de la muerte de umbrella que son bastante conocidos gracias a su capitán llamado por el seudónimo de hunk esos atacan a birkin disparándole múltiples veces e hiriéndolo de muerte, pero este en acto de venganza se inyecta con el virus y muta en un terrible monstruo.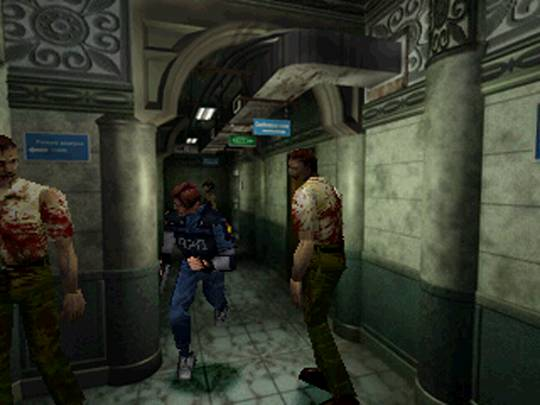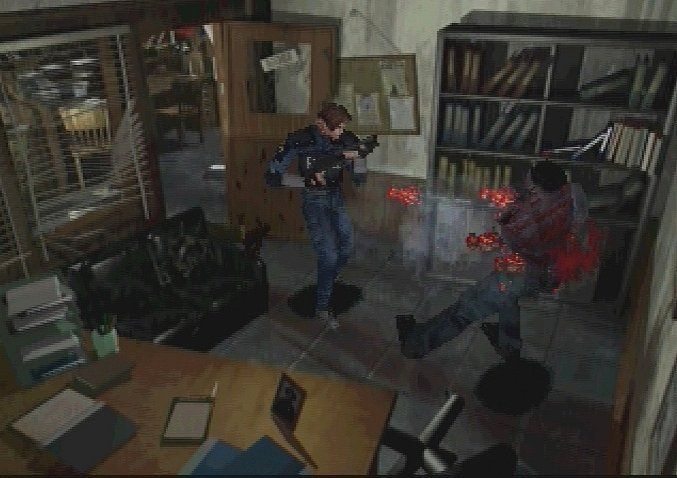 After this we find out that the girl who accompanies Claire Redfield, Sherry is the scientist's daughter and this monster seeks to capture the girl, therefore Claire decides to protect her, and ada realizes that the pendant that his wife Annette was wearing contains a sample of the G-virus, and in the plot of the video game we will have many iconic characters, and many action-packed fights, in addition to having one of the most horrifying abominations in the resident evil saga which is the transformation of William Birkin In the last sequence of the game on the train, which has been transformed into a mass of abyssal meat, which contains a large eye in its center that gives it a totally threatening and terrifying appearance, this video game was ported to many formats but its format on the Playstation was one of the most famous for its graphic quality and playability with the classic control of the ps1, besides that one of the things that could be criticized at some point was the camera. For the video game which was in the third person and we had to explore the room at all times to be able to find the main objective and when passing to another section of the level the camera changed planes so it was absent in the follow-up of the character for a long time, something that does not happen in the same way and was run in its remake version for the ps4, this video game had a very good reception reaching good scores that ranged from 9/10 by some of the most famous gaming forums, where you could find names like, All Game, GameFan, GameSpot, and even the official playstation magazine awarded the video game with a score of 90% in criticism and evaluations of the game, so it was a game very well received and accepted by its community, since Today it is considered a classic of the playstation 1.


Luego de esto nos damos cuenta que la niña que acompaña a claire redfield, sherry es la hija del científico y este monstruo busca capturar a la niña por lo tanto claire decide protegerla, y ada se da cuenta que el colgante que llevaba su esposa Annette contiene una muestra del virus-G, y en la trama del videojuego tendremos a muchos personajes emblemáticos, y muchas peleas llenas de acción, además de tener de una de las abominaciones mas horripilantes en la saga de resident evil la cuál es la transformación de William birkin en la última secuencia del juego en el tren, el cual se ha transformado en una masa de carne abisal, la cuál contiene un ojo de gran tamaño en su centro que le da un aspecto totalmente amenazante y terrorífico, este videojuego fue portado a muchos formatos pero su formato en la Playstation fue uno de los más famosos por su calidad gráfica y jugabilidad con el control clásico de la ps1, además de eso una de las cosas que se pudo criticar en algún momento fue la cámara del videojuego la cual era en tercera persona y debíamos explorar la habitación en todo momento para poder encontrar el objetivo principal y al pasar a otra sección del nivel la cámara cambiaba de plano por lo que estaba ausente en el seguimiento al personaje de forma prolongada, algo que no sucede del mismo modo y fue corrido en su versión remake para la ps4, este videojuego tuvo una muy buena recepción alcanzando unos buenas puntuaciones que oscilaban entre el 9/10 por algunos de los foros gaming mas famosos, en los que se podían encontrar nombres como, All Game, GameFan, GameSpot, e inclusive la revista oficial de playstation premio al videojuego con una puntuación del 90% en críticas y evaluaciones al juego, por lo que fue un juego muy bien recibido y aceptado por su comunidad, y a día de hoy se considera un clásico de la playstation 1.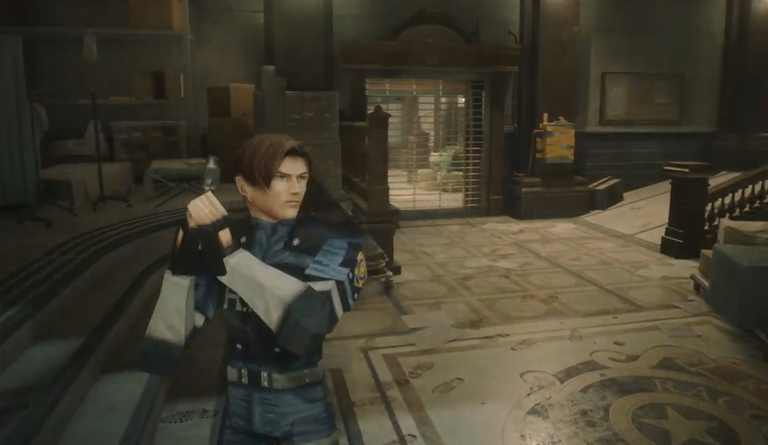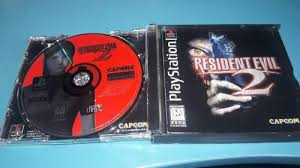 And so far today's post Hivers, I hope you liked it, but above all you enjoyed it, what did you think of this video game from the Resident evil saga? Did you ever play this video game, how was your experience with it? ? Let me know in the comments, if you like my content do not forget to follow me so as not to miss anything in your Hive feed or on the contrary visit my website in wordpress, without more to say I wish you a good morning, afternoon or evening , From the Cave SadBear Says Goodbye, Until another time❗🐻🚀

The images you saw in this post have their respective sources in each of them.🦝
Add me in discord if you want to give me suggestions for posts or know some information # SadBear # 6392👽
VISIT MY SITE ON WORDPRESS👻 SadBear Web

Y hasta aquí el post de hoy Hivers, espero que les haya gustado, pero sobretodo lo hayan disfrutado, ¿Qué te pareció este videojuego de la saga Resident evil?, ¿Llegaste a jugar este videojuego en alguna ocasión, como fue tu experiencia con él?, házmelo saber en los comentarios, si te gusta mi contenido no olvides seguirme para no perderte de nada en tu feed de Hive o por el contrario visita mi página web en wordpress, sin más que decir te deseo unos buenos días, tardes o noches, Desde la Cueva se Despide SadBear ❗Hasta otra ocasión❗🐻🚀

Las imágenes que viste en este post tienen sus respectivas fuentes en cada una de ellas.🦝
Agrégame en discord si quieres darme sugerencias para posts o saber alguna información #SadBear#6392👽
VISITA MI SITIO EN WORDPRESS👻 SadBear Web